UPDATE: Shortly after sharing this post, Bob Coret, the creator of the "Open Archives" plugin (and a founder of the site), got in touch. The "Open Source" plugin in more impressive than my cursory exploration revealed. The plugin is more thoroughly documented at his blog post, which is linked at bottom along with further observations.
For those engaged in A.I. genealogy and digital explorations, this piece investigates a modest recent progression in A.I.-assisted genealogical research. You may already be familiar with this if you're a seasoned researcher, but for those who haven't encountered it yet, this post will introduce a compelling new tool. It's particularly relevant for those interested in Dutch and Belgian archives, but the implications could extend far beyond these boundaries.
Encountering Open Archives
While exploring the digital landscape for genealogy-related plugins, I made an intriguing discovery: the "Open Archives" plugin. This tool offers a novel approach to accessing genealogical data from Dutch and Belgian archives and societies. Here's how the plugin describes itself: "Search the genealogical data of Dutch and Belgian archives and societies via Open Archives."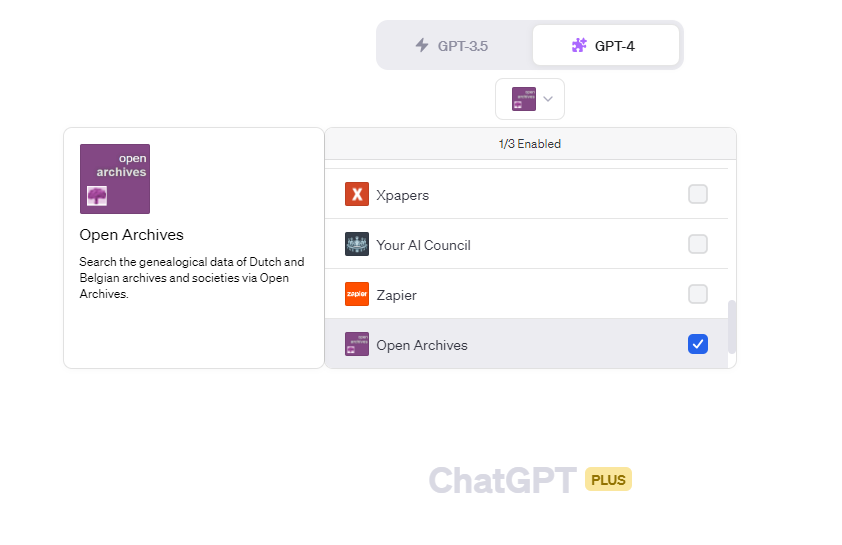 A preliminary test shows promising results. The plugin appears to effectively search records across these archives, providing links to found records on the original archive websites.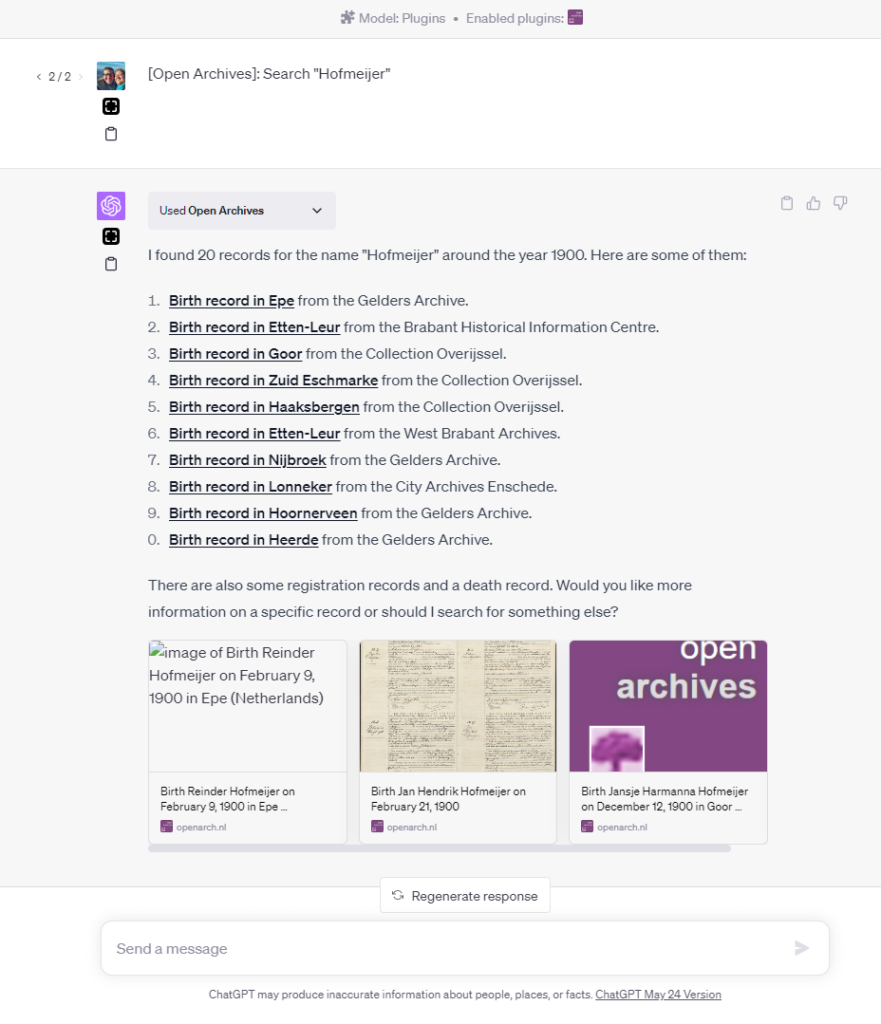 However, it's worth noting that the plugin currently does not offer additional AI processing of the records within ChatGPT directly. That is, the plugin doesn't import the record data into the chat session, a feature that could potentially add another layer of convenience and efficiency to our research.
Exploring the ChatGPT Session
To fully understand the potential of this tool, consider this: anyone can access the ChatGPT session via this link, and the returned links are live. Registered ChatGPT users can continue the chat and ChatGPT Plus subscribers can also carry on the conversation with the plugin enabled.
Diving Deeper: Plugin Data Inspection
Beyond simply using the plugin, it's also possible to examine the data passed to the plugin and returned by it. All you have to do is click the down arrow beside the plugin title. In this case, for example, click the down arrow next to the "Used Open Archives" label.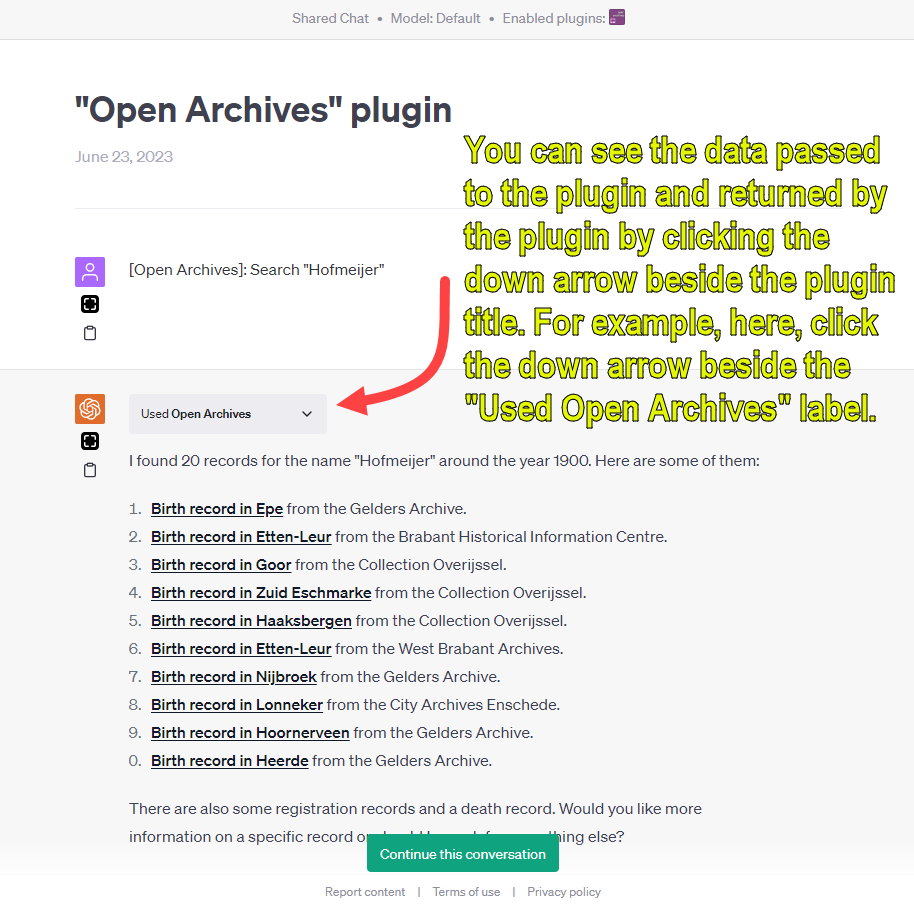 The Nitty-Gritty: Structured Data
The data exchange between the user and the plugin happens in the form of JSON structured data, a widely used format that allows for easy copying out of the plugin.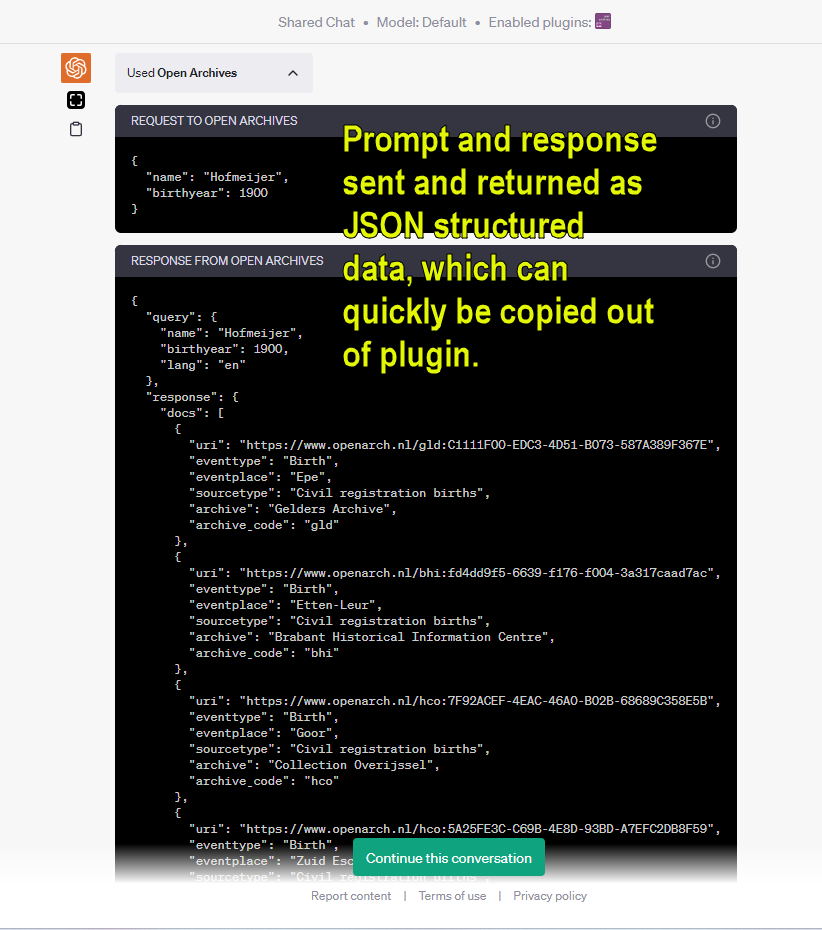 The Road Ahead
While the Open Archives plugin doesn't yet import the record data into the chat session, this pioneering tool provides a glimpse of what might be possible in the future of digital genealogical research. It paves the way for a more interactive, AI-enhanced exploration of historical records, opening up new avenues for discovery and understanding. As researchers and enthusiasts, let's keep our eyes on the horizon for what's coming next!
UPDATE: Shortly after sharing this post, Bob Coret, the creator of the "Open Archives" plugin (and a founder of the site), got in touch. The "Open Source" plugin in more impressive than my cursory exploration revealed. The plugin is more thoroughly documented at his blog post, which is linked below.

* Contrary to a comment in the linked article, the plugin does import record data into the chat session. In simple cases, you can ask the system for birth information (date/place) for a specific person, and then continue in a chat style by asking when the person died.
* A more complex query that can be made is "did they have children". For this, ChatGPT needs to call a specific function using a unique identification (GUID) of a marriage certificate.
* Another impressive query is "how old was {name}". For this, ChatGPT makes two requests to Open Archives (for birth and death records) and calculates the person's age.
* Bob Coret has documented his experiences with the plugin in more detail in a blog post, which is written in Dutch but easily translated to your first language.

https://blogbob.coret.org/2023/06/open-archieven-als-plugin-voor-chatgpt.html