What they are, where to get them, why use them, and how to use them: Using the AskYourPDF plugin as an in-depth example
I. Introduction: Plugins: What, why, where, & how
[NOTE: For clarification: the plugin features discussed in this post require a ChatGPT Plus subscription. At $20/month, you gain access not just to GPT-4 with its advanced functionalities – of which plugins are merely an additional advantage – but to an AI model that vastly outperforms GPT-3.5 and others like Bard, Claud, etc. Trying GPT-4 offers an incredible opportunity to unlock the vast capabilities of AI that you might not be fully utilizing yet. While plugins are a welcome bonus, GPT-4 is truly the star of the show. In other words, no one is paying $20 for plugins–it's GPT-4 that's worth the cost.]
Welcome to a fascinating exploration at the intersection of artificial intelligence and genealogy. If you're a genealogist or a family history enthusiast, you are likely always on the lookout for tools that can aid in your research, streamline your workflow, and unlock new insights. Today, we're going to delve into a resource that may be new territory for many: ChatGPT and its versatile plugins.
ChatGPT, developed by OpenAI, is a highly advanced language model trained on a diverse range of internet text. But what does that mean for you? Well, in simple terms, it's like having a tireless research assistant that can generate human-like text based on the prompts you provide. It can answer questions, write essays, summarize text, and even generate creative ideas — all in the blink of an eye. It's a tool that has been making waves in many fields, from education to business to creative writing, and it is beginning to assist the world of genealogy.
In this blog post, we're going to introduce you to the world of plugins designed for ChatGPT Plus. We'll explore what a plugin is, why it's beneficial for genealogists, and how to enable, install, select, and use a plugin. We'll also showcase some plugins that will be of particular interest to genealogists, and provide a more in-depth introduction to the AskYourPDF plugin, a tool that could prove invaluable in your research. So, whether you're a seasoned genealogist or a beginner just starting your journey into your family's past, join us as we explore the new frontier of AI-assisted genealogical research. The future of genealogy is here, and it's incredibly exciting. Let's dive in!
II. What is a Plugin for ChatGPT Plus
In our digital age, the term "plugin" is quite common, but let's pause a moment to ensure we all understand what it means in the context of ChatGPT Plus. Essentially, a plugin is a piece of software that adds new features or functionality to another program. Think of it as an accessory or an add-on that enhances the base product. In this case, the base product is ChatGPT Plus, and plugins are designed to augment its abilities, tailoring it to better fit your specific needs.
Now, you may be wondering: "What kind of enhancements are we talking about?" The beauty of plugins lies in their diversity. Some plugins are designed to give ChatGPT Plus new abilities, like parsing specific data formats or interacting with certain databases. Others are designed to improve the quality of the AI's output in specific contexts, like technical writing or poetry composition. And some plugins, like the AskYourPDF plugin we'll discuss later, can provide a seamless interface between ChatGPT Plus and other software or data sources.
For genealogists, plugins for ChatGPT Plus offer an opportunity to tailor the AI to better suit the unique needs of genealogical research. They allow you to push the boundaries of what's possible with AI assistance, and help you leverage the vast capabilities of ChatGPT Plus in new and exciting ways. With the right plugins, you can transform ChatGPT Plus into a specialized tool for genealogical research, a tool that can save you time, streamline your research process, and help you unearth insights that might otherwise have been missed. In the following sections, we'll explore this in more detail, providing a clear guide on how to use these plugins and highlighting some of the most valuable ones for genealogists. Stay with us as we journey further into the world of ChatGPT Plus plugins. It's a world full of potential, and we're excited to help you discover it.
III. Why? The Value of Plugins for Genealogists
In the world of genealogy, every piece of information, no matter how small, can potentially be the key that unlocks a new understanding of your family history. The search for these pieces often involves sifting through vast amounts of data, from online records to old letters to scanned documents. This is where plugins for ChatGPT Plus can bring significant value.
Plugins can enhance the capabilities of ChatGPT Plus in ways that are particularly beneficial for genealogical research. For instance, some plugins are designed to improve the AI's ability to understand and generate text in specific contexts. These can be incredibly helpful when you're trying to interpret old documents written in outdated or specialized language. With the right plugin, you could ask ChatGPT Plus to explain what a certain phrase means or to provide a modern language paraphrase of an old letter.
Other plugins can help ChatGPT Plus interact with specific databases or digital resources. This can save you considerable time by automating some of your research tasks. Instead of manually searching through an online database for records of a certain individual, you could ask ChatGPT Plus, with the right plugin, to do it for you. You could even ask it to summarize the findings or highlight the most relevant details.
Let's consider a specific example: the AskYourPDF plugin. This plugin allows ChatGPT Plus to interact with PDF files, a common format for many digital resources used in genealogical research. With this plugin, you can ask ChatGPT Plus to extract information from a PDF, such as the names and dates mentioned in a scanned census record or the key points from a lengthy historical article. This can be a huge time-saver, allowing you to focus more on interpreting the information and less on finding it. As we delve deeper into the realm of ChatGPT Plus plugins, it becomes clear that these tools hold great potential for genealogists. By automating tasks, interpreting complex language, and interacting with a range of digital resources, plugins can make your genealogical research more efficient and insightful. They are valuable tools in the modern genealogist's toolbox, and we're excited to help you explore them further.
In a moment, we will explore how to use the AskYourPDF plugin, but first we'll talk about who can use this plugin, where to find it, how to install it, and how to activate it for use.
IV. How to Enable plugins, Install, Select, and Use a ChatGPT Plugin
Ready to dive into the world of plugins? This section will guide you through the process of enabling, installing, selecting, and using a plugin with ChatGPT Plus. Before we get started, it's important to note that plugins are currently a beta feature. This means you'll need to enable beta features in your OpenAI account settings.
Here is a step-by-step guide to get you started:
1. Enable Beta Features: Log into your OpenAI account and navigate to your account settings. Look for a section titled "Beta Features" and check the box to enable them.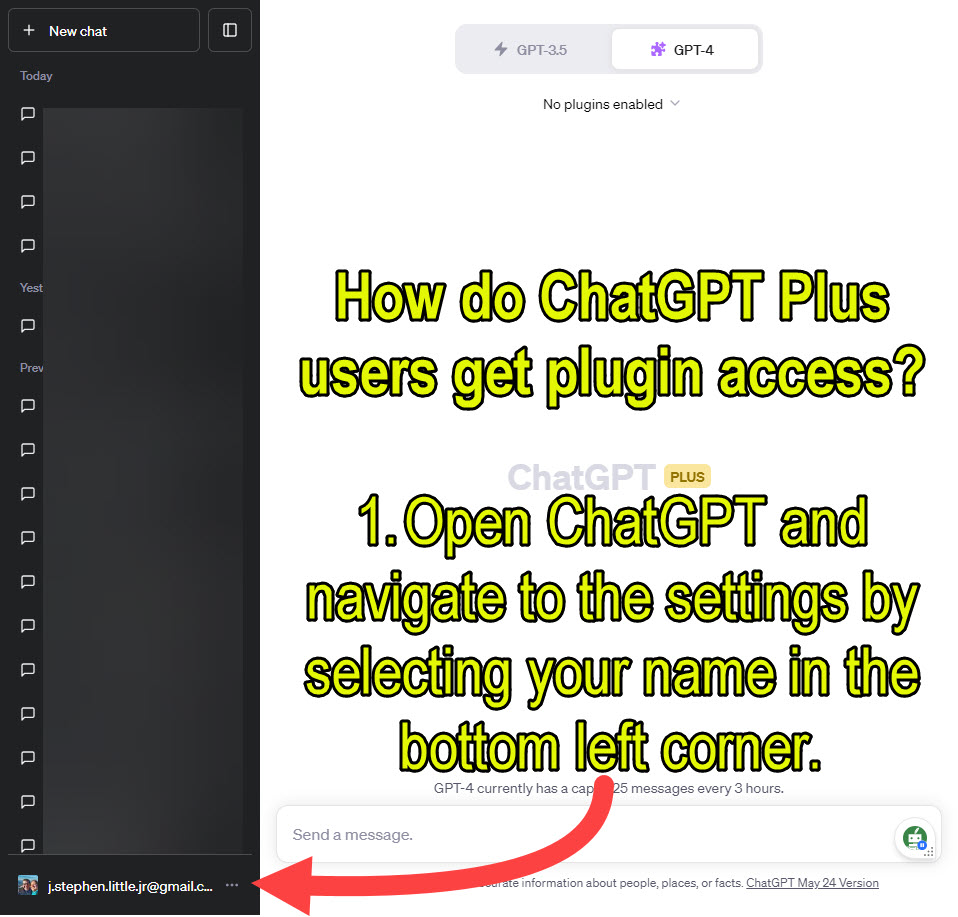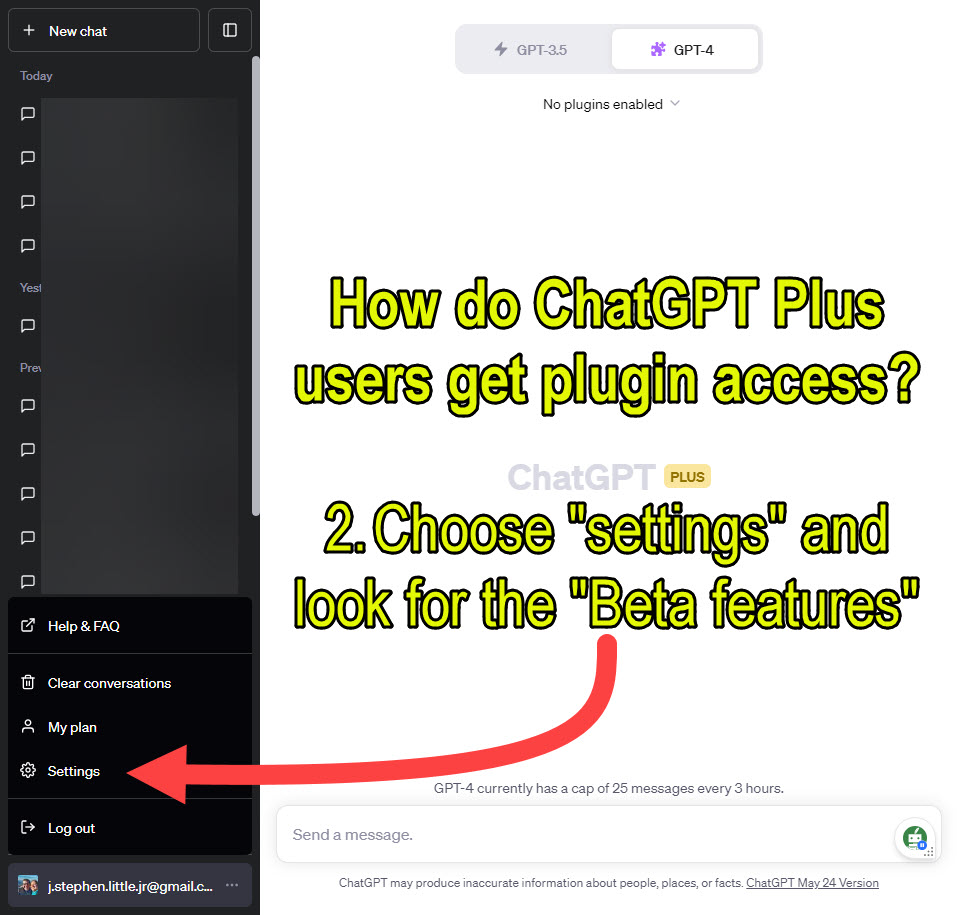 2. Access the Plugin Marketplace: Once you've enabled beta features, you can access the plugin marketplace. This is where you can browse available plugins, read descriptions, and see user reviews.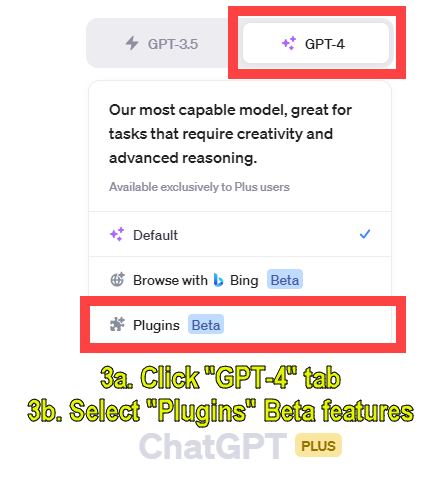 3. Install a Plugin: When you've found a plugin you'd like to try, select it to see more information. You'll see an "Install" button on the plugin's page. Click this button to add the plugin to your ChatGPT Plus. Currently plugins are free, but only three plugins can be "active" at any one time.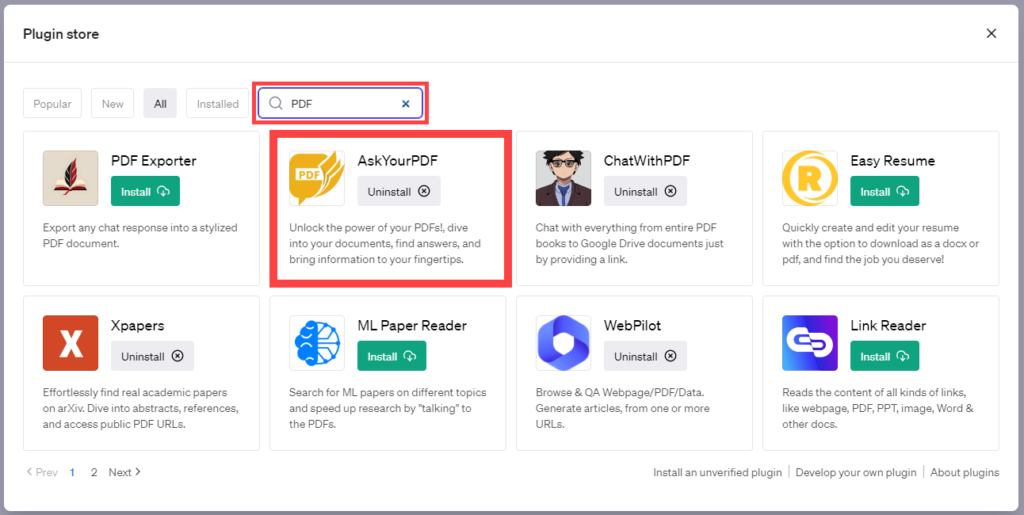 4. Select a Plugin: Once you've installed a plugin, you can select it for use. Although you can install any number of plugins, only three can be "active" at any one time. Of the active plugins, ChatGPT will select the most appropriate plugin as ChatGPT determines. PRO TIP: Because ChatGPT determines which active plugin to use, we often keep only one plugin active, forcing ChatGPT to use that plugin. Go to your ChatGPT Plus interface, and look for a dropdown menu labeled "Plugins." This menu will list all the plugins you've installed. Select the plugin you want to use from this list.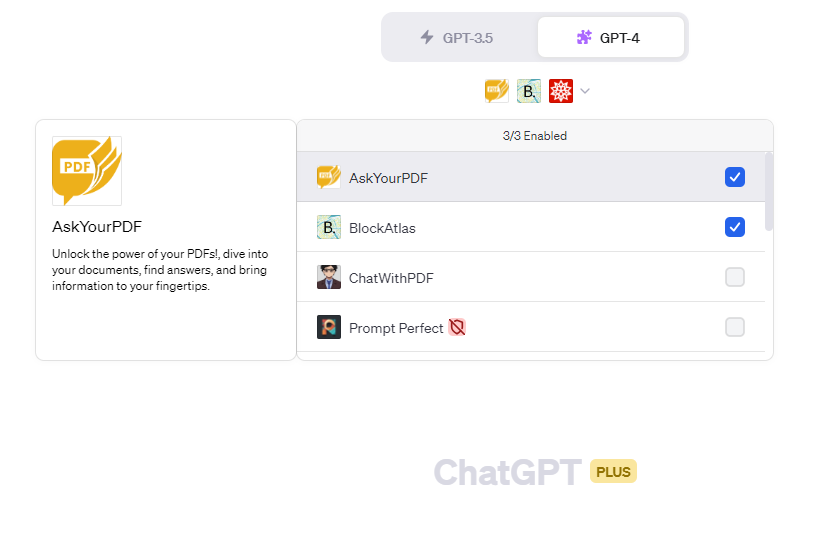 5. Use a Plugin: With a plugin selected, you can now use it in your interactions with ChatGPT Plus. The exact way you use a plugin will depend on its specific features and capabilities, so it's a good idea to read the user guide or documentation that comes with each plugin.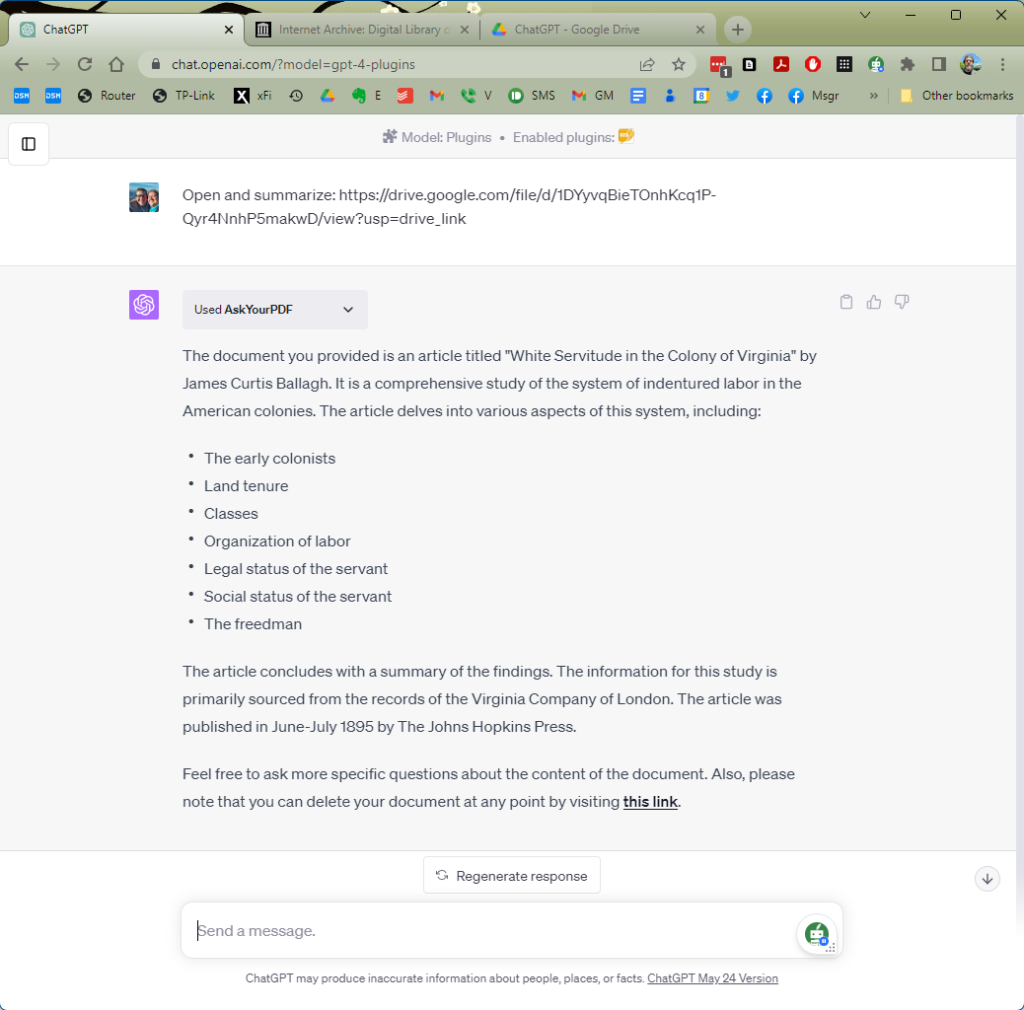 Remember, each plugin will have its own unique features and methods of interaction. Some plugins may provide additional tools or options within the ChatGPT Plus interface, while others might enhance the AI's responses to your prompts. PRO TIP: Don't be afraid to experiment and explore the functionality of each plugin. In the next section, we'll take a closer look at some plugins that are particularly useful for genealogists. Whether you're looking for assistance with document interpretation, database queries, or another aspect of your research, there's likely a plugin that can help. Let's continue our exploration!
V. Suggested Plugins for Genealogists: AskYourPDF, Wolfram, Show Me, BlockAtlas
As a genealogist, the intricate task of tracing lineage and family history can sometimes feel like solving a complex puzzle. Fortunately, there are some innovative ChatGPT plugins designed to make your research more efficient, more accurate, and ultimately more fruitful. In this section, we'll introduce you to three such plugins: Wolfram, Show Me, and BlockAtlas. We'll explore their features, advantages, drawbacks, and specific applications for genealogical research. Please note, information about the AskYourPDF plugin will be discussed in detail in the next section.
1. Wolfram Plugin
The Wolfram plugin is a powerful computational tool that enhances ChatGPT's capabilities in several fields. Originally designed for use in disciplines such as mathematics, astronomy, chemistry, and geography, this plugin can also be a valuable tool in genealogical research.
Features and Uses: The Wolfram plugin can answer complex queries and provide visualizations and real-time data. In genealogy, this could be leveraged to analyze demographic data, calculate generational intervals, and provide visual representations of complex family trees. Additionally, the plugin's strength in geography can assist in understanding the geographical distribution and migration patterns of your ancestors.
The Wolfram plugin doesn't merely guess the next most likely word like a large language model, but rather enhances ChatGPT's abilities with accurate computational reasoning and symbolic AI. Plugins can augment the capabilities of ChatGPT, allowing it to perform computations, deliver curated knowledge and data, and even create visual diagrams. However, they work in conjunction with, rather than replacing, the core language generation functionality of ChatGPT.
Pros: The Wolfram plugin offers improved accuracy and focus in responses compared to the standard ChatGPT model. It can handle complicated questions, providing a more streamlined response without overwhelming you with excess information.
Cons: The Wolfram plugin's core strength lies in computational tasks and scientific fields. Although it can be significantly beneficial for genealogical research, this is not its primary function.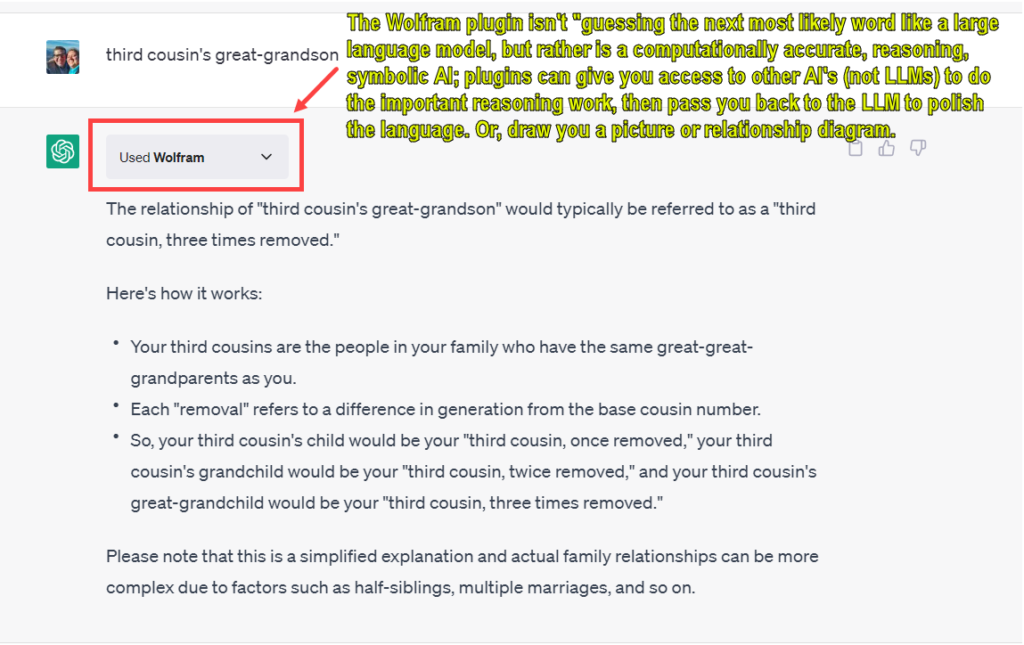 2. Show Me Plugin
The "Show Me" plugin for ChatGPT Plus users allows the model to create diagrams using Mermaid JS, a JavaScript-based diagram and flowchart generating tool. This plugin is used to visualize data in a variety of graph formats.
Given the plugin's ability to create diagrams, genealogists might use it to:
Visualize family relationships in the form of pedigree charts or family trees. These could outline ancestry and descent, helping to clearly see familial connections.
Create descendant charts to map out the offspring of a particular individual or couple.
Generate family group sheets that summarize vital information about a specific family, including the parents and their children, along with dates and places of birth, marriage, and death.
Develop family outline reports, which could be used to sequentially list each child in a family and their respective families.
Produce other types of diagrams that might be useful for genealogical research, like timelines or geographical maps.
Please note that these are potential uses inferred from the general capabilities of the "Show Me" plugin and the typical needs of genealogists. The actual possibilities would depend on the specific features and limitations of the plugin, and how well it integrates with genealogical research methods and tools. We were able to confirm the "Show Me" plugin's ability to use the definition provided by Wolfram to create the diagram of between a person and their third cousin's great-grandchild (or third cousin, three times removed).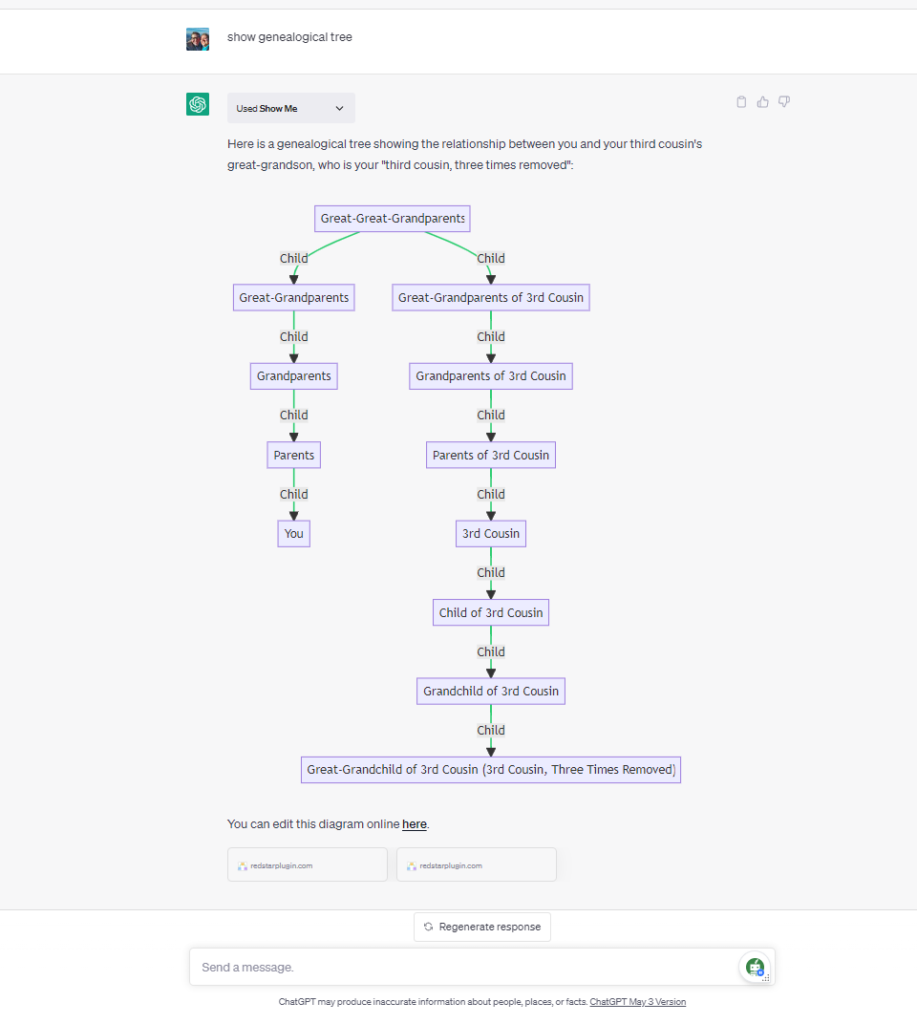 3. BlockAtlas Plugin
ChatGPT now includes a plugin called "BlockAtlas" which lets you use the AI to question US Census data, or, at least for now, a limited set of US Census data, the American Community Survey since 2005.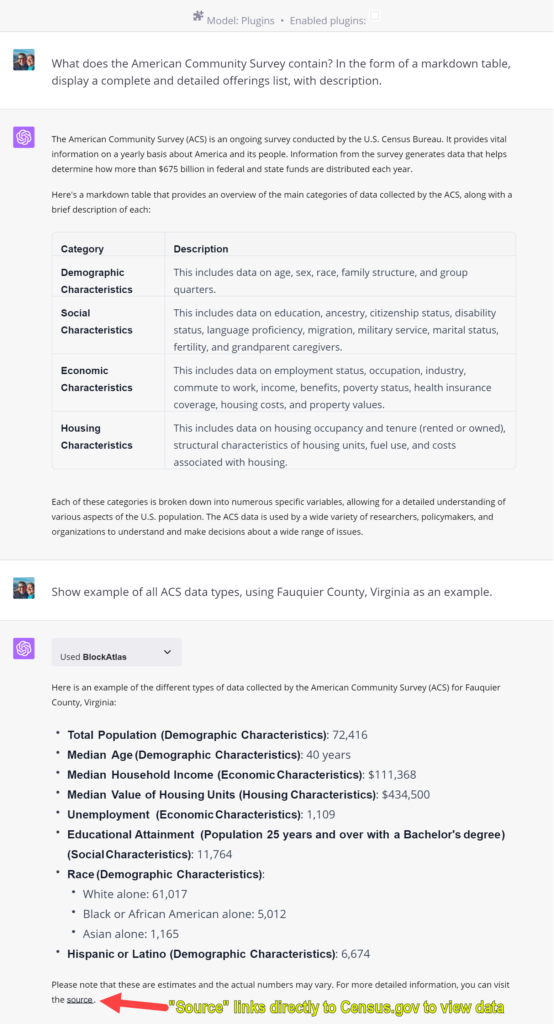 VI. A Deep Dive into the AskYourPDF Plugin
Navigating the expansive landscape of genealogical research often requires the ability to extract and process information from an array of sources, including PDF documents, text files, spreadsheets, presentation slides, and other documents. The AskYourPDF plugin, designed to work seamlessly with ChatGPT, is a powerful tool that can significantly enhance your ability to work with PDF files, and many other file types, including TXT, CSV, PPT, PPTX, EPUB, and RTF files.
1. Detailed Overview of the AskYourPDF Plugin
The AskYourPDF plugin is an ingenious tool that enables ChatGPT to analyze PDF documents with enhanced capabilities. But what does this mean in practice? This plugin can examine a PDF document, suggest changes, extract pertinent information, and even provide a summary of the document's content. What's more, it can be used to search through a lengthy PDF document to find specific pieces of information, saving you precious time and effort.
Security Note: It's important to exercise caution when using online tools for analyzing sensitive documents. There are websites claiming to offer AI PDF analysis for free, but they may have ulterior motives. For this reason, it's recommended to only use the AskYourPDF plugin via the ChatGPT prompt window on the official OpenAI website to ensure the privacy and integrity of your documents.
2. How the AskYourPDF Plugin Can Be Used in Genealogical Research
In genealogical research, the AskYourPDF plugin can prove to be a game changer. With the ability to analyze, summarize, and search through PDF documents, it can streamline the process of data extraction and interpretation. For example, if you have a lengthy historical document or a family record in PDF format, this plugin can swiftly sift through it to find relevant names, dates, and events.
Furthermore, if you're dealing with a large collection of archival documents, the AskYourPDF plugin can help you extract and organize key information, making it easier to trace familial connections and build comprehensive family trees. The ability to quickly locate specific information in voluminous documents also means you can spend less time on manual search efforts and more time on interpreting and connecting the dots in your genealogical research.
3. Tips and Tricks for Getting the Most Out of the AskYourPDF Plugin
Be Specific in Your Queries: When asking ChatGPT to find information in a PDF using the AskYourPDF plugin, be as specific as possible. For instance, if you're looking for a particular name or event, specify it clearly in your query. This will make the search more effective and yield more accurate results.
Leverage the Summary Feature: If you're dealing with a long document and want a quick overview, ask ChatGPT to summarize the PDF for you. This can help you grasp the main points and decide whether you need to delve deeper into the document.
Utilize the Extraction Functions: In the same way we have been extracting structured data from narrative sources which were pasted into the ChatGPT web interface, the same extraction functions can used with AskYourPDF tasks.
Because of the vast potential of this plugin for genealogists, additional research and posts are coming.
VII. Conclusion
As we draw to a close on our exploration of ChatGPT and its plugins, let's take a moment to revisit the key points we've covered.
We started by introducing ChatGPT Plus, an advanced artificial intelligence model capable of engaging in intelligent and meaningful conversations. We learned that plugins are added tools that can enhance the functionality of ChatGPT Plus, providing additional features and expanding the range of tasks it can perform.
The value of these plugins in genealogical research came into focus, illustrating how they can streamline the research process, simplify data analysis, and allow for more efficient exploration of family histories. We also provided a step-by-step guide on how to enable, install, select, and use these plugins, thereby equipping you with the knowledge needed to integrate these tools into your research practices.
We dove into the world of plugins that are particularly useful for genealogists, offering a brief overview of several notable ones. We then took a closer look at three top recommendations: Wolfram, Show Me, and BlockAtlas, explaining their specific features, pros, cons, and uses. This was followed by an in-depth exploration of the AskYourPDF plugin, illustrating its utility in analyzing, summarizing, and searching through PDF documents, a common requirement in genealogical research.
The journey through the capabilities and potentials of ChatGPT plugins hopefully has shed light on how these tools can become valuable allies in your genealogical quest. However, this exploration is far from exhaustive, and the full potential of these plugins can only be realized when they are put to use.
We encourage you to take these insights and explore the plugins further, integrating them into your research methods and tailoring their use to your specific needs. Each plugin brings its own unique set of capabilities, and the right combination of plugins can significantly enhance the scope and efficiency of your genealogical research. Remember, the journey of discovery does not end here. As you continue to work with ChatGPT and its plugins, you'll undoubtedly find more ways they can aid your genealogical pursuits. Let your curiosity guide you, and let these tools empower your quest for deeper understanding of your family's history.